TAKE THE TOWER

Resistance = Heavy
Technical level = 5
Resources = Medium
Terrain = Urban
Occupier = Series 9


Strategy:
Your forces are set at the point 1. Go over the bridge 2 and destroy it. Build up your camp at the area 3. Defend it in the North and South entrance. Use Skeletal Walls on the perimeter of your camp and into base too (see picture Camp). This forbids devasting airdrops. Stregthen your defend and resources. Make a Floater and Martyrs. Send them to the point 4. You can destroy antiaircraft forces there. In this way, you can destroy Oilbots at the point 5 too. Then send the Floater to the point 6. You obtain reinforcements there - two Floaters and nine Large Artilleries. Move them on a safe place. The Artilleries can fire over water channels. In this way, you can destroy enemy towns safely. Make some Fighters and destroy enemy forces stepwise. Combine these attacks with Large Artilleries and Martyrs.

Note:
The par time is 2:01:30 and my record is 1:22:00.

Hint:
The Fighter can fire on landing. Therefore, you can destroy targets nearby enemy antiaircraft forces. Attack on the target sometime and then go on landing nearby the target. In this way, you can keep Fighters without enemy range. Repeat it until destroying of your target. Remember that a group of 6 - 10 Fighters is a strong weapon.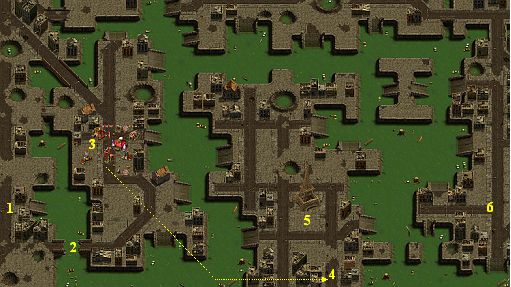 The camp: